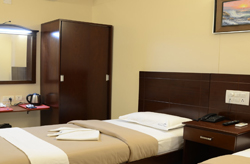 Skylite - An offer you cannot deny
If you think our room rates are cheap, wait till you call us and enquire about bulk bookings. Our hotel staff are trained to arrange a gala party, be it marriage or a simple college alumni re-union. For folks from IT, a pleasant group stay can be arranged for your conference.
Key to getting the right offer is to call us at the above number and striking a bargain for your group.