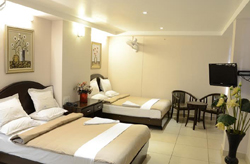 Skylite - A Location to kill for
If business brings you to the city, you'll love our hotel's airport location in Coimbatore! We're posh new in Coimbatore, Closer to Colleges (PSG, CIT, CMC) , Wellness Hospitals (Kovai Medical, Aravind, Lotus) and IT hub. We feature 28 sprawling rooms with covered car parking for your convenience.
Whether it's a business trip or a vacation that brings you to Coimbatore, our hotel's free internet keeps you connected. Swing by Top Eateries before exploring nearby sights. Later, burn calories doing your business in this pleasant city. When it comes to a stay in the Coimbatore Airport area, our hotel's accommodations offer genuine value to our guests.